IRL and Update 10/30/2021
This post will be an update of my IRL situation, based off of this previous post here.
Transition related news:
I have finished at the hospital's psychiatric department and have been forwarded to their gynecologist, who will help, check and monitor me with the medical transition. So think of hormones, other treatments, surgery, etc. The waiting list was 8 weeks at the time, and I think about 4 weeks or so of that are left as of today.
I've received my new ID card and new birth certificate, that has my new names on it as well as the gender listed as female, so it's official now!
I now have to contact everywhere (banks, insurance, doctor, hospital, datacenter, other companies I'm a client of..) to get my details updated.
Work/financial related news:
I still don't have a job, though I have been working very closely with Mozilla as a contributor for the past few months, working on their Windows 10 testing infrastructure migration.
Financially nothing changed other than the disability benefit that went up when I turned 19 on March 29th 2021.
Homelab updates:
I've chose to invest in three new servers; the HP ProLiant DL360p G8. This is the best server I can somewhat afford, and it's 1U versus the 2U DL380 G6 servers I have.
One DL360p G8 server has already been bought and placed. It has replaced one DL380 G6 server, and I have also removed another DL380G6 server completely.
For the money for the remaining two servers, I started a GoFundMe per someone's recommendation. Please check that out and share if you can!
Here is a picture of the front of my lab right now. Pictured from top to bottom, ESXi1 and ESXi2 (DL380 G6 servers) and ESXi3 at the bottom (DL360p G8):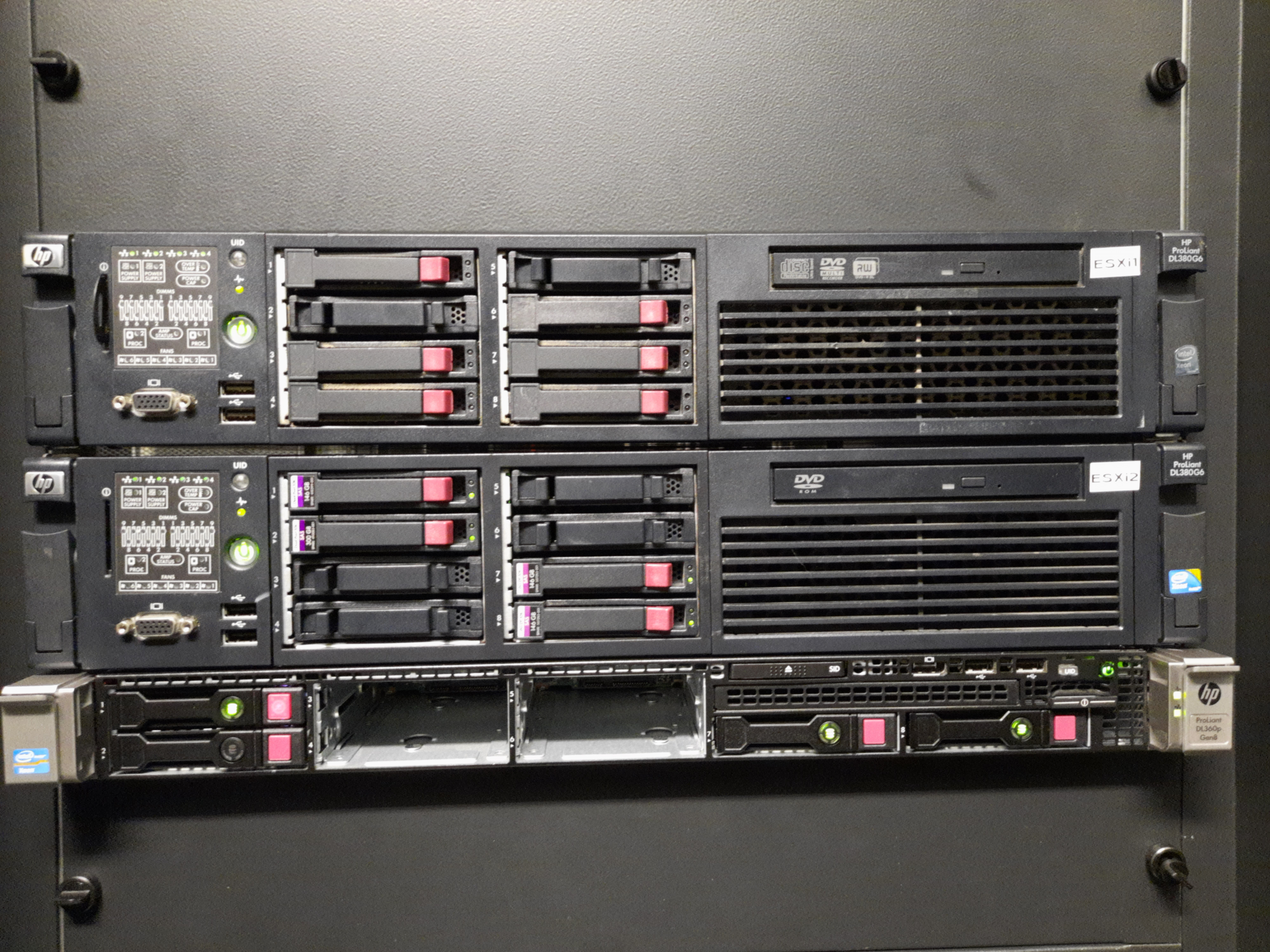 It will be a significant upgrade. Both in terms of hardware as well as being significantly cheaper on the monthly datacenter bill, so I really hope that we can make this work!
Other than that, still working hard on learning new technologies using my homelab, as well learning for an AWS certification possibly.
That was all for this post, thank you for reading!