Collection of VMworld vRealize announcement posts
Hi,
This blog post serves more as a collection of links to other blogs about new announcements that VMware has made during VMworld.
1. The new vRealize Cloud Universal offering.
With this new hybrid subscription offering, VMware is providing customers the flexibility to consume both on-premise and SaaS vRealize Suite products and services using a single subscription license. This offering allows customers the freedom to move workloads between on-premise and SaaS offerings interchangeably without the requirement to purchase new licenses. Additionally, this new offering provides access to Cloud Federated Analytics and Cloud Federated Catalog capabilities.
You can read more about it here.
2. Announcing vRealize AI. (formerly Project Magna)
vRealize AI will focus on vSAN in it's first release, but VMware's vision is to bring this to the rest of the infrastructure as well covering the full SDDC.
vRealize AI will be a part of vRealize Operations Cloud, at least in its first release, and only as a SaaS offering. The latter kind of makes sense as there's quite some machine learning happening under the covers which needs to be powered.
You can read more about it here (scroll down a bit).
3. Nutshell: vRealize Operations Cloud 8.2, Automation Cloud 8.2 and Log Insight Cloud 8.2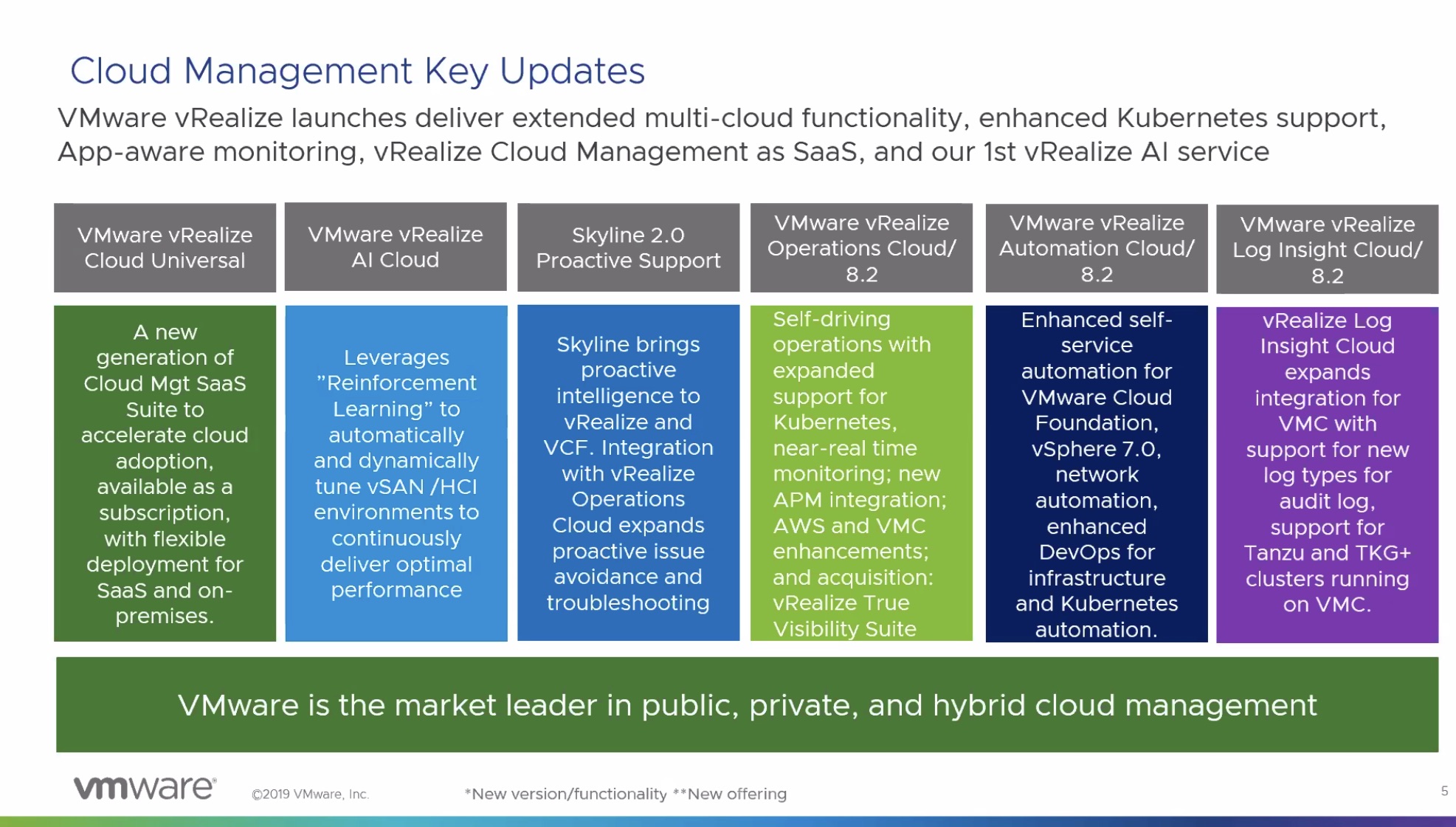 (Source.)
4. Announcing vRealize Network Insight 6.0
"Running a large network is always a challenge especially compounded with numerous application and user requirements. With the latest 6.0 release, VMware vRealize Network Insight will continue to deliver end-to-end network, application, and security visibility converged across virtual and physical networks. vRealize Network Insight will continue to improve the integrations with VMware NSX, VMware SD-WAN, VMware Cloud on AWS, Microsoft Azure, Amazon AWS, and Kubernetes environments. The new vRealize Network Insight 6.0 release will help enable a transition from a reactive to a proactive understanding of the end-to-end network so managing the day to day is easier with more accuracy and will allow more time for strategic initiatives."
I highly recommend reading this post from VMware, where they go into detail on what's new.
Are you a blog poster and have I missed your post? Feel free to contact me and I will add it here.
Thank you for reading, have a great day and a great VMworld!